Summary
The L4L project provides financial support to encourage parents and enable village children to attend school and receive a formal education up to and including the tertiary level. Lea and her late husband Alex have supported the children of Ban Reng Khai and other villages in the Isaan, Thailand's poorest region, for more than 18 years.
During the past years the 'Study project' has grown and taken on a more formal approach. Currently the number of students in the L4L project is about 50. Many have now reached the tertiary education level where the costs are considerably higher.
Therefore, we need additional funding to meet the L4L share of the total cost - the family pays half and Learning for Living, through the Ban Reng Khai Foundation, the other half – and in exceptional cases more. For example, a donation of 6,000 Baht (~ 120 Euro) will cover one child's expenses for one year at secondary school. Tertiary education is more expensive at about 24,000 Baht (~ 480 Euro) per student per year.
Total funds required for the coming year to support our 50 students are about 500,000 Baht (~10,000 Euro).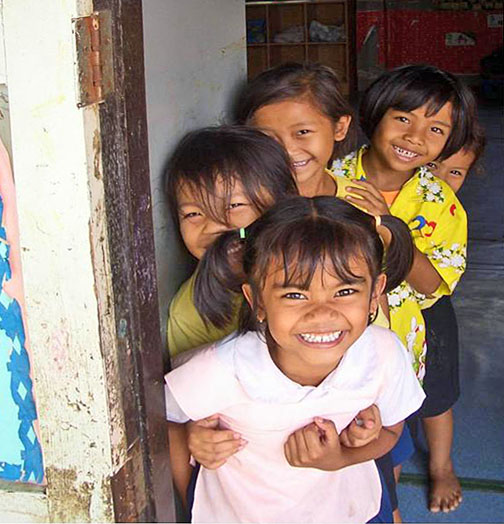 "Learning4Living" – History
In 1990 the first stage of the study project started in the village Ban Reng Khai with the provision of school uniforms, books, and bicycles, to 112 children under 12 years old. This enabled them to attend primary school. At that time the assistance covered all the children of Ban Reng Khai. Funding came from the sales of silk and from private donations from The Netherlands. For six years the annual financial support was approximately 80,000 Thai Baht.
In 1996 about ten children were ready for secondary school. Each was individually sponsored by private donations. Few children went on to secondary school, because there were no paved roads, cars, or electricity in the village. It was difficult to convince the families and the children to stay in school – in the rainy season it was often impossible to reach the school! For a brief period the home of a teacher was used as a boarding house for some students, but this didn't work. In 1997 some children from neighbouring villages joined the study group.
In 1998 fourteen students (eleven boys and three girls) progressed to technical school. The following year some students attended agricultural college. Funding was supported by private donations, but this became more and more difficult as costs increased. Increasingly the proceeds from the sales of silk had to be used to cover the L4L costs.
In 2003 the project became too expensive, and funding per student was reduced to 50 percent of the total cost. Fortunately at this time the law in Thailand changed and the Thai government made more funds available for all children to attend junior secondary school (the first three years), including more money to buy school books.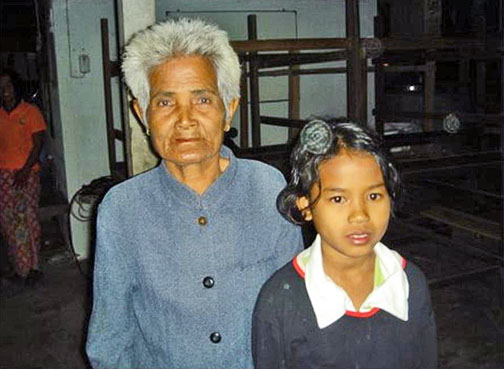 Tongkwaw, an L4L supported student, starts secondary school in 2007.
Picture shows her with grandmother.

Although the Thai Constitution mandates free schooling for at least 12 year olds, the Thai authorities and the United Nations in Bangkok confirm that costs involved other than school fees can be prohibitive for poorer people, and is often the main reason why they do not attend lower or higher secondary school. Student lunches, school uniforms, books, and transportation costs, together with special fees for such as computer labs, currently comprise most of the parental costs for children at school.


In addition secondary schools in Surin demand fees (electricity, computer classes etc.) from parents, often amounting to about 5,000 Baht per student per year.
During this period an average of thirty to forty children benefited from the project, with students receiving about 12,000 Baht per year towards their increased costs.
Since 2005 the study project has grown and taken on a more formal approach. The name "Learning4Living (L4L) was introduced, and the number of sponsored students almost doubled, from 17 to 32 as the project expanded to three new non-weaving villages, and other schools in Surin province. Currently the project supports 50 students.
Each year all sponsored students are interviewed to asses their progress at school. New applications for study grants are assessed, and candidates are selected in close consultation with parents, local teachers, and school principals.